Welcome to GrabThoseLeads!

Thanks for joining.
Here is the System Update for June 29, 2016
I posted a new promo that explains a strategy for using your GrabThoseLeads replicated site to build your downline, and earn from promoting Safelists as a Business, in addition to giving YOU some great places to post your promotions – the SAME RESOURCES I USE ON A DAILY BASIS.  This strategy is designed for someone starting out, and requires only a small investment to get you to the level where you are generating commissions.
>>>>> http://grabthoseleads.com/published/1/GTLStrategy.php?user=gtladmin
Here is a summary:
Sign up for Instant Commission sites – they have a HIGHER PERCENTAGE OF PAID MEMBERS, that indicates those members are more likely to be BUYERS, and not freebie seekers.

For a small one-time cost for the OTO Gold upgrade, you are positioned to get a 1 MILLION POINTS plus Ad Pack

You are positioned to earn 50% of Sales (you keep one sale, the next is passed up to the admin, regardless of value)

You are positioned to qualify for Platinum that earns 75% of Sales

Even without the OTO upgrade, you are given access to sites with Supernetwork ads that go to tens of thousands for only a few dollars.

A highly effective promotion strategy

You are positioned to earn commissions simply by using the Downline Builders 

Modify this ad copy for your own promotions (remember – don't post URLs in the body of credit mail or solo ads)
---

THIS IS HUGE!
Step 1 is now SKINNY BODY CARE – one of the hottest products
AND Business Opportunities on the Internet!
Business Plan has been moved to Section 3
This does not minimize the IMPORTANCE of having a  BUSINESS PLAN
just better categorizes it under Let's Get Organized.
(Pardon the road noise – I was driving)
From June 15, 2016
New Items Added to Steps 4 and 5
New "Your Sponsor's Programs" in section 5
Video on how to access Ad Copy pages
All landing pages now in Your Links to Promote
What is GrabThoseLeads.com All About?

First and foremost, GrabThoseLeads is a unique list building opportunity on steroids, delivering FIVE OR MORE subscribers to YOUR list, in addition to having some great content, tools, tips, techniques, business opportunities, and a full blown premium marketing system called LSN 2.0 – Lead System Network.

Multiply your list building by five times!!!!! 

Here's how the massive list building formula for success works:

Join GrabThoseLeads for free.  You've done that.
Opt-in and Login.  You've done that too.
Join all five sections – it's free to join.
How to Promote GrabThoseLeads
Be sure to click the button on the main screen,
"Click Here To Access your Links to Promote"

Get your Promotional Materials:

Buttons, Banners, Login Ads – at BANNERS on the left menu on the main page
Ad copy, tweets – My Published Pages then View Landing/Thank You Pages button

Get your Lead Capture Pages at My Published Pages on the left menu

Your autoresponder is already loaded with a set of default messages for each section. 

Promote your replicated site or Lead Capture Pages (preferred).
Need Places to Promote?  See Section 4
As people join from your replicated website link or lead capture pages, they become your referrals.
As your referrals join each section, they join your list (we set it up to have autoresponder messages to their email on your behalf).
How to Make Money at GrabThoseLeads
Section 1 – Purchase the hottest weight loss product, Skinny Body Care. You won't make any money as just a customer, but as a Reseller, THIS PRODUCT IS HUGE!
Section 2 – If you sign up for LSN as a reseller, you can earn 100% commission for each of your referrals that join LSN as paid members (Commission for Pro members is $30 per month and Commission for Entrepreneur members is $100 per month)
By joining LSN, and upgrading to Entrepreneur, you have the opportunity to OWN YOUR OWN REPLICATED SITE SYSTEM!
Section 3 – There are some great tools here, some free, some that I recommend an upgrade.  These programs may or may not have an affiliate program.
Some programs in this section earn commissions.  Once you join these tools or systems, fill in your AFFILIATE URL (not just the ID, the whole URL including http://) on the Profile Page (little man icon below your picture or Avatar). Don't forget to Save your Profile.
Section 4 – Join Instant Commission sites, Traffic Sites, Leads Sites, Marketing Tools and other programs in this section.  Once you join them, fill in your AFFILIATE URL on the Profile Page. Don't forget to Save your Profile.
Section 5 – Join Business Opportunities listed in this section.  Once you join them, fill in your AFFILIATE  URL on the Profile Page. Don't forget to Save your Profile.

Now, for the Content!

GrabThoseLeads.com starts out by introducing the concept that Internet Marketing is truly a business, and as such, should do all the things a brick and mortar business must do to establish itself as a business: a Business Plan, the proper Licensing and Permits, which opens the possibility (at least in the US) to get tremendous tax advantages as an established business.
Section 1 – Skinny Body Care – Reseller opportunity, or simply purchase product
Section 2 – Business and Marketing Tools – free to join this section, but the Business and Marketing Tools offered through Lead System Network require a subscription.

LSN offers a 14 day trial is for $1.00 USD.  You would only be eligible to receive commissions as an LSN full member when you subscribe for a Reseller license.

Section 3 – Organization Tools – free to join this section.
Business Plan –  Give this some serious thought!
Many tools have a free membership offer (although it is worth getting upgrades to some of these tools)
Section 4 – It's All About Exposure – traffic strategy and resources – this section is free to join, and you can get free memberships to many of the safelists  (but most of these sites make it very worthwhile to purchase the One-Time-Offers and upgrades if you choose)
Section 5 – Multi-Stream Income Business Opportunities – free to join this section.  Many business opportunities are free, some charge a modest fee, but many opportunities can leverage your existing resources.

Start to Define and Build Your Business
Even though some sections are not completed yet, BE SURE TO JOIN ALL SECTIONS NOW.  That way, anyone that joins after you will be in YOUR downline, not mine.
1. Section 1 – Check out the Skinny Body Care products.  Review the business opportunity for Skinny Body Care and reserve your position for free.
2. Section 2 – After registering to section 2 of GrabThoseLeads.com, sign up as a free member of Lead System Network 2.0.  
They offer a 14 day full function trial for $1.  LSN 2.0 has some great tools and features, and even more on the way.  If you choose to continue after the trial, membership is $30 per month.  
A separate reseller license is available for an additional $19.95 per month. Very good comp plan (100% of the monthly membership fee of $30 per subscriber)
3. Review Section 3 – register for this section.  Start your Business Plan, and review the Organization tools, tips, and hints.
4. Review Section 4 – register for this section, download the eBook, and join the Traffic Sources and Instant Commission Sites.  Take advantage of the FANTASTIC OTO's – Lifetime Gold membership on high traffic, commission earning sites that earn 50% of Sales!  Consider making Instant Commission Safelists as YOUR BUSINESS.  Ask me how…
5. Review Section 5 – register for this section and review and join the Business Opportunities.
How to Promote Your Replicated Site
Watch the Video
Get your Landing Pages from the left hand menu: My Published Pages
Get your Banners from the left hand menu: Banners
Get Ad Copy and Tweets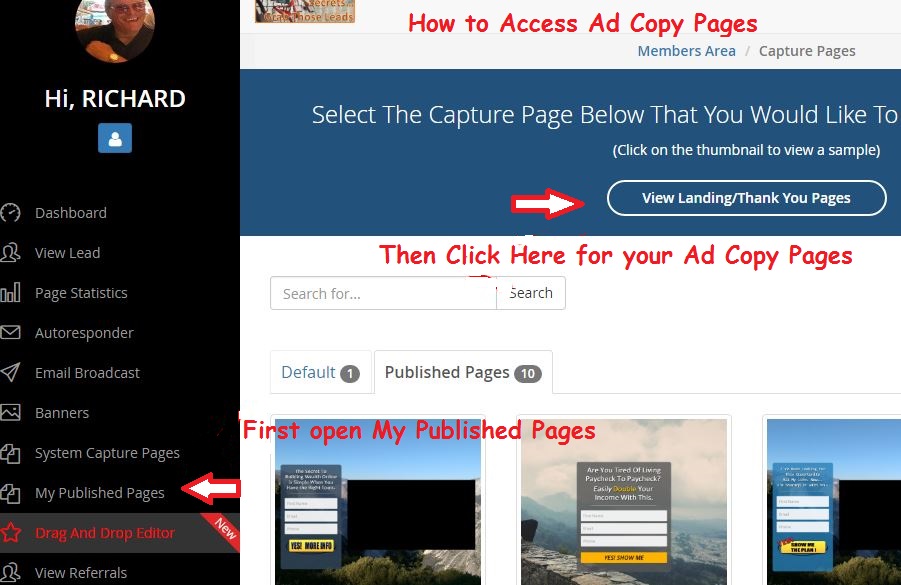 Get Places to Promote: Section 4
Finally, a little about me…  About Me – Rich Moyer
Please contact me with any questions.
Rich Moyer
1-484-902-8819 m-f 8am-5pm EST
Email: richard.moyer.1953@gmail .com
I am a CONSULTANT FIRST and FOREMOST.
Paying It Forward…
.
Discover How To Generate Quick Cash Online In The Next 30 Minutes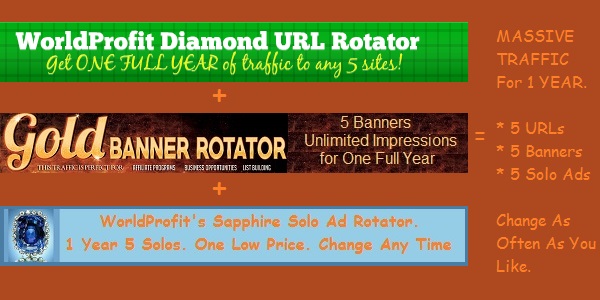 Submit A Help Desk Ticket
Copyright (c) 2016 Richard Moyer