Exposing Your Business
If You Haven't Seen Today's Update, View It Here!
This is not only about TRAFFIC.
This is not only about Getting Leads.
This is not only about Keeping Leads for yourself, and not giving them away.
This is not only about FUNNELS.
This is not only about SELLING.
This is not only about CONVERSIONS.
This IS about getting to the RIGHT audience
With the RIGHT MESSAGE that grabs their attention
And "Cultivating" the relationship with that prospect
and Telling them, Informing them, Educating them, and Earning their TRUST
so they want to do business with YOU, and not the 10,000 other affiliates
who might be promoting a particular product or service.
You don't want just SALES, you want Customers For Life that keep coming back to YOU.
We are going to talk about all of these elements that are pieces of the puzzle.
Let's Start with Traffic.
Traffic is an ubiquitous word that has so many meanings, but yet people don't understand it, understand how to get it, and once they get it, they don't know how to use it.

We will talk about GOOD TRAFFIC, BAD TRAFFIC, TARGETED TRAFFIC, GEO-TARGETED TRAFFIC, PURCHASED TRAFFIC, ORGANIC TRAFFIC, and so on.
What it comes down to, is UNDERSTANDING where, when, and how to get your information in front of the right audience, at the right time, using multiple media, continued and consistent exposure, and considering what the PROSPECT is looking for, and that PROSPECT'S "WIIFM" – What's In It For Me!
Good Traffic is generated by REAL PEOPLE.  It does not include "Fiverrs" or robots. An example of Good Traffic would be: Lists that include safelist members, or any double-opt-in subscribers.
Bad Traffic is generated by people PAID to generate traffic with no intention of viewing your opportunity or legitimately joining your business.  If someone offers you 50,000 views in 24 hours, RUN AWAY!
Targeted Traffic is when you are sending your offers to a group of legitimate people associated with a specific niche, interest, program, etc.  For instance, Internet Marketers, dog lovers, camping enthusiasts.
Geo-Targeted Traffic is when ads are sent to a specific geographic area.  You frequently see traffic offers to Top Tier countries: US, Canada, UK, Australia, etc.
Purchased Traffic can be good or bad traffic.  The best purchased traffic is when a seasoned marketer sends your ads and offers to their own, proven list.  For instance, when you order a solo ad from Udimi Solo ad vendors, they "rent" their list to you for a specific number of clicks.  Your ad is sent continuously until the purchased clicks have been delivered from unique IP addresses (no duplicates)
Organic traffic is from people making inquiries and searches from search engines like Google.
Purchased Leads – LEADS are different than TRAFFIC!
When you purchase traffic, ideally, the recipients have been identified, classified by geographic location and tier (you want mostly Tier I – US, GB, Australia)

LEADS are just that, Leads. They may not have opted-in or been through any validation or qualification process.  That's why getting 50,000 visitors (may take years) or 10,000 leads may not be a good idea.  I have about 100,000 leads, and I have loaded about 19,000 into Pro Mailer.  When I ran a broadcast email to a list of 19,000 if they were good leads, I would expect about 1%-2% opens or conservatively 190.  I got 4 opens.

My experiences with Purchased leads:

from Pennies for Profit – got thousands of leads, poor results
from USA Leads Club – got thousands of leads, poor results
from The Lead Company – got thousands of leads, poor results
from MLMROD – got thousands of leads, poor results
from M&G Home Business – better quality leads but poor conversions
from Boost My Online Business – good stats but I need more time for analysis.
from WorldProfit – OK answer rate, got some conversions with direct sales, not email or Call Loop.  I have gotten conversions with the combination of Call Loop, email followup, and personal contact.
With the leads I purchased through The Conversion Pros doing telephone sales, out of 50 leads purchased, only one email was bad, 4 bad phone numbers.  I actually spoke to 4 who answered the phone, I got 2 maybes, and a yes that converted several weeks later.

Get your leads from The Conversion Pros

If you purchase from a reliable source of leads, these ARE qualified, and the cost usually is justified by the quality of the lead, you would expect to pay $0.75 to $1 per lead..    More on this Topic:  What Makes A Lead Good
Check Out My eBook: A Traffic Strategy
My Trusted Sources for Traffic
Safelists – Instant Commission Sites – Not all safelists are created equal.  I have found a group of safelists, originally championed by Frank Salinas, and Joe Freyaldenhoven, called Instant Commission sites.  I own two of them, and have upgraded to Founder or VIP Elite levels on about 25 or more.  These sites are a business in themselves that pay fantastic commissions, and the bonuses offered consist of tons of ads and credits (sometimes in  the millions).  They feature a full complement of on-site and email mail options, Lifetime banners and text ads, and most have SuperNetwork connections.
>>>>> Click Here to find out how to make Instant Commission sites a Business
SuperNetwork Sites – SuperNetworks are collections of safelist sites that have tens of thousands of double-opt-in members.  They typically offer only Solo Ads that range from $2.50 to $25 or more for each ad, but your range is greatly extended, and sending to SuperNetworks saves an incredible amount of time.
>>>>> Click Here for a list of SuperNetwork sites and the approximate number of members on all partner sites.
SuperNetwork Blasters – These are SuperNetworks that offer all ad types like banners, buttons, hot links, traffic links, login ads, and solo ads.  Some even have auto-submit (Set 'n Forget ads).
>>>>> Click Here for a list of SuperNetwork Blaster sites and the approximate number of members on all partner sites.
Ad Co-ops – The administrators of ad co-ops make leveraged buys of thousands of leads at one time.  The leads they purchase are of the highest quality.  I've had good and bad co-op experiences.
These are usually offered to paid members of a program – a benefit of upgrades.  Here are Co-ops where I have had good results (memberships are required):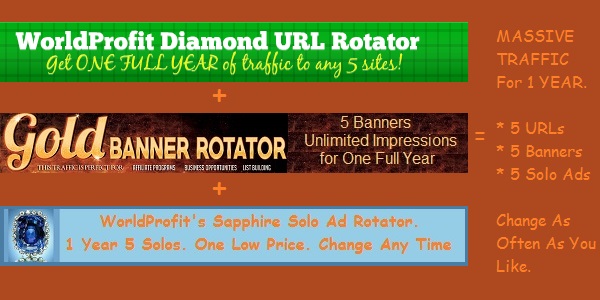 Submit A Help Desk Ticket
Copyright (c) 2016 Richard Moyer